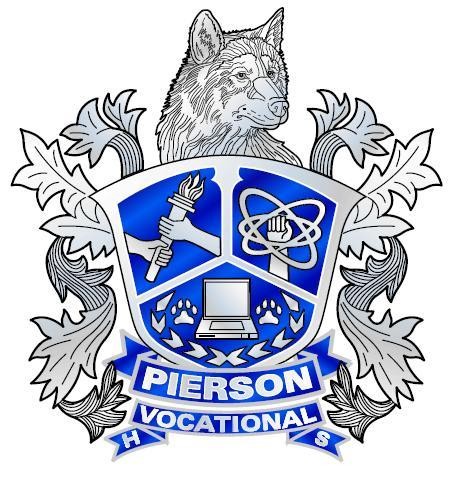 TO THE STUDENT
On behalf of the faculty and staff, we welcome you to Pierson Vocational High School (PVHS).  Your time here can be of great value to you now as well as in the future.  A positive attitude, desire to learn and acceptance of responsibility will be major factors in your personal success in education. We look forward to assisting you in fulfilling your educational goals. 
Please look at this web site if you ever feel that you have been a victim of bullying. 
http://www.stopbullying.gov/get-help-now/
MISSION STATEMENT
Pierson Vocational High School is a student centered option that supports and embraces the diverse needs of students by providing an alternative method of delivering instruction and monitoring academic success.  Our rigorous curriculum based on differentiated instruction and technology, intervention programs, extended learning opportunities, competency based learning, and safe school environment are characteristics of Alternative Education Programs. 
2015-2016 Pierson Vocational High School
Principal- Joel Kramer
jkramer@nusd.k12.az.us
FACULTY
Lindsey Young (ESL, English)
lyoung@nusd.k12.az.us
Brad Beach (Science)   
bbeach@nusd.k12.az.us
Suma Udumula (Math)
sudumula@nusd.k12.az.us
Maria Neuman (Social Studies
mnueman@nusd.k12.az.us
Maureen Flaherty (Counselor)
Jessica Fredrick (TSW)
jfredrick@nusd.k12.az.us
Usha Madhyaham Math
umadhyaham@nusd.k12.az.us
Lisa Calza (English)
Pat Mendez (CTE Technology)
pmendez@nusd.k12.az.us
Michael Inzunza (Print Shop/CTE)
minzunza@nusd.k12.az.us
Irma Fontes (NUSD CTE Director)
Hector Lopez (Security Officer)
Denise Valenzuela (Medical)
Rosalinda Norzargaray (Principal's Assistant)
Sandra Trujillo (Transition)
Miriam Mendez-Ortega (Transition)
Mario Yubeta Head Custodian
myubeta@nusd.k12.az.us
Alma Vasquez Custodial Staff.


BELL SCHEDULE FOR 2015-16
1.  7:40-8:35 
2.  8:37-9:32 
3.  9:35-10:30 
4.  10:33-11:28 
    Lunch    11:30-11:58 
    5. 12:00-12:55 
    6. 12:58-1:53
    7.1:55-2:50
Tutoring will be on Monday Tuesday and Thursday from 3:00 to 3:45 PM.  
Early Release Wednesdays
7:40-8:15                                           1st
8:17-8:55                                           2nd
8:57-9:25                                           3rd
9:28-10:00                                         4th
10:00-10:30                                      Lunch
10:35-11:05                                      5th
11:07-11:35                                      6th
11:37:12:10                                      7th
12:15- 3:30                                        In-Service
 CLASS DESCRIPTIONS
Our program is open-entry/open exit.  The curriculum has been designed for self-paced, differentiated, blended, teacher-directed student programs and is aligned to state standards and district standards.  We are NCA/CASI certified school, meaning if you graduate from PVHS
You may attend ASU, U of A or NAU, Technical Colleges, Cochise College or other 2 Year Colleges if you please.  
You may get credit if you do the following:
Work Study:  Students may receive a maximum of 1 credit for work study per school year.  A full credit consists of 180 hours of work, which must be completed during the school year, and verified by pay slips. 
All of our classes are based on technology, web based programs, and we offer extra school time after school. We are also able to offer on-line classes that are competency based, earn high school credit, not having to attend school to earn credit, and some of the classes are dual college credit.  There are some guidelines to participating in this program, so please see the principal for more details.
Internet and Computers
All students who would like to use a laptop must have the permission slipped signed by your teacher, the principal and yourself.  Once this is complete you will be given a laptop, so you may access the internet.  All district policies apply to your internet use, and if you violate the polices you will lose your privileges. All classrooms will have at least 16 computers, Promethean Boards, we are a wireless campus, and we have 25 laptops or desktops for students to check out for education improvements in Merit Testing, Science AIMS, AZELLA, or credit recovery.  Check out:  Net Trekker, Discovery Web Streaming, USA Test Prep, and Achieve 300. These are some of the web-based sites we use for your academic success.



PVHS is a school unlike schools around us, yet we are a school of technology, that will help you in the future.
Graduation Requirement – High School
English                                                                      4
Reading                                                                    1
Mathematics                                                             4
Science                                                                     3
US/AZ Government/FE                                            1
US/AZ History                                                           1
World History/Geography                                        1
Spanish                                                                     1
Physical Education/Health                                       1
Vocational/Computer Class                                    1
Careers Class________________________          0.5__
Required Courses                                                16.5
Elective Courses                                                     5.5
Required Credits                                                     22
All Students will be required to take extra reading, writing, or math courses if they have not done well in that area.  
COMMUNITY COLLEGE/ TECHNICAL COLLEGE/UNIVERSITY
ENTRANCE REQUIREMENTS
The requirements for community college/university entrance differ with the various colleges/universities and are constantly being changed.  Students, therefore, are urged to be aware of the entrance requirements of the college/university they plan to attend upon graduation from high school.  This information may be obtained directly from the college/university the student has in mind or our counselor.
Pierson Vocational High School Individual Studies
Individualized Studies (IS) with a basis of Differentiated Instruction is a student-driven way to learn, offered to grades 9-12 at Pierson Vocational High School. The ownership of the learning rests on the student's shoulders. The phrase, "Tell me what I need to do to earn credit," has some meaning in IS. The IS response to that phrase is, "You tell us what you want to do. If together we decide that the idea has merit, then you can take that idea and create something that is credit-worthy." Having that kind of control over one's own learning means two things: 1) the student has more responsibility, which can be a little scary, however; 2) the student has more power to choose the style of learning that fits her/him best and the subject of the learning that fits her/his interests, which can be rewarding and even fun.

The mission of Individualized Studies is to provide an opportunity for our students to design his/her own custom-built learning activity (which could include community-based learning activities). In addition, IS strives to provide the guidance, encouragement and support needed to make that custom-built learning activity both rewarding to the student and worthy of the direction we are going to improve our education through the use of AIMS scores and Differentiated instruction.

Our expectations do not change with IS. In order to earn credit, the student must reach the high standards we ask of all of our students, as with any PVHS learning opportunity. In order for the student to get approval for an IS activity, he/she has to show that his/her plan will reach those same high standards.
CONNECTION TO THE ARIZONA STATE STANDARDS

All learning activities are aligned with Arizona Framework. Simply by completing the entire enrollment process (setting personally relevant - i.e., interest-based - learning goals and completing a proposal for a learning activity), the student is addressing, meeting, and creating evidence of meeting standards that we as a staff are striving to maintain with our DI goals. For students who need additional structure for constructing a learning activity, a Standards-Based Unit of Study has been created (using those same two standards) for those students to complete. The culminating activity of this unit is final approval of the student's proposal. In essence, it's a standards-based unit about how to create a standards-based unit!